Jazz bassist Tommy Cecil has been active in the Washington, DC jazz scene since 1976 when he moved from his hometown Baltimore, MD. He has established himself as one of the most in-demand players in the area.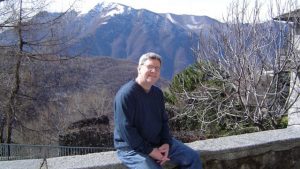 Always faithful to the melody, Tommy knows how to make any style of music swing!
Tommy has had long associations with many of DC's favorite jazz sons, including John Eaton, Buck Hill, Charlie Byrd, Dick Morgan, Shirley Horn, Brooks Tegler, and the Redd Brothers. As a freelancer, Tommy has worked with Mose Allison, Tommy Flanagan, Joe Henderson, and many other star artists. Concert appearances have taken Tommy throughout the U.S. and overseas.
Tommy is featured on dozens of recordings as a sideman. As a leader, he released two albums: "Side by Side: Sondheim Duos" with pianist Bill Mays; and "Samba for Felix" featuring Tommy Flanagan, Billy Hart, Gary Bartz, Paul Bollenback, and Cyro Baptista. He released two albums with pianist Louis Scherr, including "The Song Is You" and "Warm Valley featuring Joe Henderson."
Side by SideTommy's new CD release: Side By Side (Sondheim Duos) is a variety of Sondheim gems from different shows, revealing their buoyant and pensive moods in a highly conversational jazz duo.
Visit TommyCecil.com
More on Side by Side:
With "Side By Side Sondheim Duos", bassist Tommy Cecil and pianist Bill Mays continue a great tradition of piano/bass duos which starts with Duke Ellington and Jimmy Blanton, and continues with the likes of Oscar Peterson and NHOP, Tommy Flanagan and George Mraz, and Bill Evans and Eddie Gomez. The freedom and intimacy it affords is exemplified on every track of the CD, from the exuberent "Comedy Tonight" to the wistful "Not While I'm Around"-whether trading melodies, or phrases, or nudging the dynamics during a solo. What adds to the interest with this recording is the repertoire. Stephen Sondheim's wonderful tunes are rarely, if ever heard in an instrumental jazz setting, because they are so deeply integrated into the shows from which they come. These performances present them in a different light, revealing nuances which might not otherwise be heard.