Remembering our 1987 recording Why Did I Choose You
Pam Bricker – vocals, Louis Scherr – piano, Tommy Cecil – bass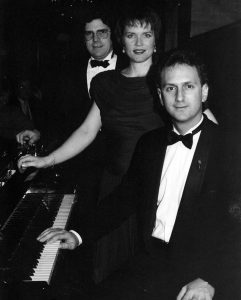 Recently while taking a trip down memory lane and rummaging through a box of old photos, I uncovered a cassette recording that Pam Bricker and I did back in 1987.
The recording was done in my living room with a reel-to-reel recorder and a few good mics.  We made cassette copies only and didn't press a record or make a CD of the project.  I was very surprised that 28 years later the cassette still played fine.   At first I noticed a few clicks and noises however after playing it a few times the sound got better.  Possibly some oxidation or tape particles broke off due to the tape sitting for so long and then the noises disappeared and I was able to copy it digitally.  I remember we gave away a bunch of copies to friends and other musicians and for a short time sold copies at gigs.
We spent one afternoon recording all the tracks and this was amazing to me since Pam was eight months pregnant and often while she was singing long phases or high notes the baby would kick!  Five tracks were recorded with voice and piano only and later in the day Tommy Cecil joined us on acoustic bass to record the other half of the tracks.
Recording with Pam was just like performing live with her.  She was always upbeat, professional, creative and swinging.  Pam always connected musically with the band members as well as the listener in a way that few vocalists could.  She was a natural and rarely if ever needed to go back and redo a portion of the recording.
The repertoire we chose was simply a bunch of our favorite standards, tunes that we felt we added an original twist to.  We were always trying to find and uncover a "gem of a standard", that special tune that for some reason either was overlooked and otherwise just not known.  We'd listen to many recordings and search through old sheet music books trying to find a few gems and Why Did I Choose You was one of them.  I don't remember anyone else at the time singing that tune.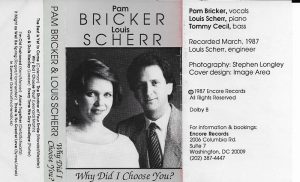 I hope you enjoy listening to the recording and feel free to download any of the cuts.  I'm sure Pam would be thrilled to know that even more of her music lives on.
Louis Scherr
Also visit http://pambricker.com/