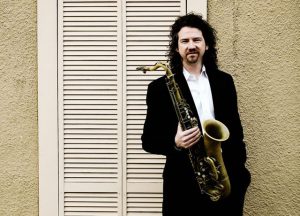 Saxophonist Jeff Antoniuk is internationally respected as a jazz composer and musician. Now living in Annapolis, Maryland, the Canadian born artist appears on numerous recordings and has been consistently well received by critics.
With a master's degree from the University of North Texas in jazz performance and West African ethnomusicology, Antoniuk spent a decade touring and recording with the Unified Jazz Ensemble. In 2004, he formed his own heavy hitting quartet, the Jazz Update.
The group celebrated the release of their first album together in 2007. Brimming with Antoniuk originals and luscious covers, the CD Here Today quickly climbed the jazz radio charts in the US and Canada and achieved stellar success in the world of high tech music sourced through high speed cable, Internet and broadband.
With the quartet's 2010 album Brotherhood Antoniuk and company step out with fresh, memorable, and beautifully executed compositions. The progressive jazz disc delivers sophisticated and compelling rhythm, melody and harmony. Its global themes are brought home with depth and humor. Brotherhood began receiving significant airplay and advance sales even before the official release date.
Popular shows at Blues Alley, the Kennedy Center, the Smithsonian and U Street clubs show the Jazz Update to be equally adept at live performance. The group surprises and satisfies wherever they perform.
"Antoniuk continues a long-running tradition among jazz composers of stretching boundaries." – Michael Buckley, WRNR 103.5 FM Visit jeffantoniuk.com