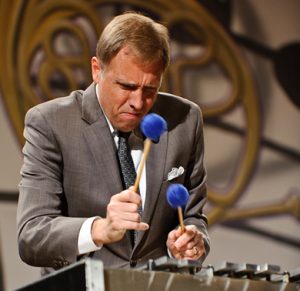 Chuck Redd is an accomplished performer on both drums and vibraphone. Chuck began performing and recording internationally when he joined the Charlie Byrd Trio in 1980 at the age of 21. That year, he also joined the Great Guitars (Barney Kessel, Charlie Byrd and Herb Ellis.) To his credit are thirteen extensive European tours and five tours of Japan, with the Barney Kessel Trio, Ken Peplowski, Terry Gibbs and Conte Candoli. He served as Artist-In-Residence at The Smithsonian Jazz Café in Washington, DC from 2004-2008.
Chuck was featured vibraphonist with the Mel Torme All-Star Jazz Quintet from 1991 until 1996. While appearing in New York with Torme, Ira Gitler of Jazz Times said: "Redd's vibes were equally notable for vigor and melodiousness."
The Washington Post recently admired his "melodic sparkle."
Jazz Times also praised Redd's playing calling his vibes work, "Exquisite! "
In 2007 Chuck was featured with the prestigious "Milt Jackson Tribute Band". Other recent engagements include jazz cruises in the Mediterranean, stints with Bucky Pizzarelli and Ken Peplowski at Dizzy's Club (Jazz at Lincoln Center) and headlining with his trio at The River Room of Harlem. He has toured and performed with Dizzy Gillespie, Mel Torme, Tommy Flanagan, Dick Hyman, Ray Brown, Monty Alexander, Laurindo Almeida, Tal Farlow, Red Norvo, Scott Hamilton, Mickey Roker and Frank Vignola.
Redd is featured on over 70 recordings. Recent releases include his Arbors CD, "All This and Heaven Too", featuring Gene Bertoncini and George Mraz, and "The Swing Kings", an all-star session featuring Bucky and John Pizzarelli, Ray Kennedy and Ken Peplowski. He can also be heard on the sound track to the popular PBS television series, "The Great Chefs, and the NPR broadcast "Jazz Smithsonian."
Performances by Chuck include a concert with the Dizzy Gillespie Quintet in Africa for the Namibian Independence Celebration, a recital at the White House with the Barney Kessel Trio, concerts at Carnegie Hall with Mel Torme's Quintet, and The Tonight Show. In 2008, he was featured in the finale concert at The Lionel Hampton International Jazz festival with The Lionel Hampton Big Band and the Clayton/Hamilton Jazz Orchestra.
In addition to leading his own groups, Chuck was a member of the Smithsonian Jazz Masterworks Orchestra for 15 years. He frequently performs in New York City and headlines nationally at festivals and clubs. Chuck is on the faculty at The University of Maryland School of Music and presents master classes, workshops and lectures around the country.
Chuck's newly released Noteworthy CD, "When Redd is Blue" is a collaboration with his brother Robert, featuring saxophonist Harry Allen. His Arbors CD "Happy All The Time," is a critically acclaimed tribute to his mentor, Barney Kessel and features Monty Alexander, Jeff Hamilton and Howard Alden.
Visit ChuckRedd.com