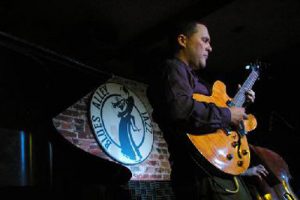 Rob Levit is a multi-directional artist. While principally known as a guitarist and leader of the Rob Levit Trio renowned for its jazz renditions and improvisations, he also paints, writes poetry and essays and is active in infusing creativity and leadership into schools, communities and the workplace. Levit lives on the cutting-edge of artistic inspiration and innovation and is a gifted speaker and facilitator on leadership, team building, and the creative process. Recently, he served as an Artist-In-Residence for six years at the Maryland Hall for the Creative Arts, the first musician selected to that position. He has given presentations for the Moss Foundation for Children's Education, Daimler-Chrysler, Northwestern Mutual,Anne Arundel County Public Schools, New Jersey Hospital Association, Leadership Anne Arundel and many others.
In July and August 2006, Levit served as a fellow for the APPEX program at UCLA's Center for Intercultural Performance where he lived, collaborated, and performed with creative artists from the Philippines, Indonesia, Malaysia, India, Germany, and the United States. The program was sponsored in part by the United States Department of State. In September 2006, Levit was the recipient of the Annie Award for performing arts given annually to artists "who have made a lasting, significant and inspiring contribution to an art form, an arts organization, and to the wider community of Anne Arundel County." In October 2006, he was awarded the City of Annapolis Mayor's Come Together Award for citizens who "have demonstrated significant contributions to the spirit of community civility." In January 2007, he was a recipient of Capital-Gazette Leadership Anne Arundel's Community Trustee Award for his community programs, leadership and involvement. In January 2007, he founded 2C (Creating Communities) to foster creativity and the arts for the underserved with a focus on elementary school children, hospital patients and adults with mental illness. He is a multiple-time recipient of the Maryland State Arts Council Individual Artist Award and one of 10 composers to receive the inaugural jazz composition commission from Chamber Music America in 2000.
As an arts integration specialist Levit travels statewide working to harness the power of the arts as a learning tool in the classroom environment. He is on the roster of Maryland State Arts Council, Montgomery County Arts Council and Arts Council of Anne Arundel County. His organization, Creating Communities, received the Innovative Program award for the Arts Mentorship Academy for under-served youth, from the Volunteer Center of Anne Arundel County in October 2008.
Major performances as a leader and co-leader include: Montreal International Jazz Festival, Boston Globe Jazz Festival, Ottawa International Jazz Festival, Texaco New York Jazz Festival, Kennedy Center Millennium Stage, Maryland Hall for the Creative Arts (with Ballet Theater of Maryland), Blues Alley, The Regatta Bar and the World Festival of Sacred Music.
He has released and recorded over fifteen commercially available compact discs. He has painted the album art for his last four CD's. His 2005 CD Touch the Spirit, a solo instrumental guitar album, was received to critical acclaim and climbed to #11 on the national New Age/World Music charts. In November 2006, Levit released Songs of Healing, an album of original guitar pieces designed for friend, families, and patients of Hospice of the Chesapeake. In 2007, he served as music consultant and composer for many tracks on the acclaimed Annapolis film Pip and Zastrow. In September 2008, he traveled to Los Angeles to perform at the opening concert of the World Festival of Sacred Music with musicians from around the world, the only American on the opening gala concert at UCLA's Royce Hall.
Visit http://roblevit.com/