Voted a Rising Star in 62nd Annual Critics Poll for "clarinet" and "miscellaneous instrument" categories.
— Downbeat, July 2014
"Baltimore-based Todd Marcus, the virtuoso bass clarinetist and composer, is a master of straight-ahead jazz."
— Baltimore Sun, January 2014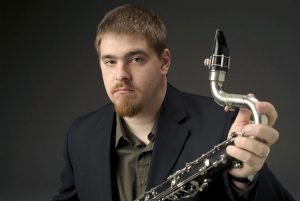 Rising Egyptian-American bandleader Todd Marcus appears with a quartet featuring jazz masters George Colligan on piano, Warren Wolf on drums and Kris Funn on bass. The performance will include selections from Marcus's "Blues for Tahrir Suite," to be featured in his upcoming release on Hipnotic Records. Inspired by the Arab Spring movement in Egypt, the work transcends stylistic boundaries, merging classical Middle Eastern harmonies and motifs with American jazz.
As in most Marcus lead programs, this concert will feature plenty of straight ahead standards delivered in new arrangements. The show will also include Marcus originals such as audience favorite, "Solstice" and debut several new compositions that show his unique use of the bass clarinet.
Since the early 2000s, Marcus has won accolades for his novel use of the clarinet and his unique compositions, earning extensive praise for concerts and recordings. Based in Baltimore, he has worked with Bennie Maupin, Don Byron, Larry Willis, Odean Pope, Tim Warfield, Xavier Davis, Mike Formanek, Gary Thomas and Helen Sung. He was the 2014 winner of Charm City's prestigious Baker Artist Award, and his 2012 album, Inheritance, was selected by NPR as one of the top 10 albums of the year. On it Marcus led two distinct quartets, including the one to be heard at Blues Alley.
Pianist George Colligan recorded on Inheritance with Marcus while he still lived in the D.C. area. Colligan now resides in Portland, Oregon, where he is a member of the Jack DeJohnnette's New Quintet.
The rhythm section includes Baltimore virtuoso Warren Wolf on drums. Equally proficient on vibraphone and marimba, Wolf is becoming known around the globe.
Bassist Kris Funn is a Baltimore native known far beyond the region. He has toured internationally with alto saxophonist Kenny Garrett, traveled to major jazz festivals on six continents and performed with artists such as Nicholas Payton, Pharaoh Sanders, Jeff Majors and Jeff Lorber.
For more info and  performance dates, visit http://toddmarcusjazz.com