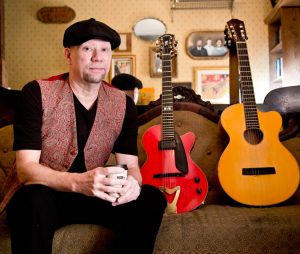 Relocating in 1975, from New York to Washington, DC, Bollenback began to study and perform both straight-ahead jazz and fusion.  He majored in music at the University of Miami, then studied for eight years with Baltimore-based professor of Theory/Composition Asher Zlotnick.  In 1987 he made his recording debut on saxophonist Gary Thomas's Seventh Quadrant (Enja), and in 1990 established a working relationship with the young organ legend Joey DeFrancesco, an association that lasted to this day, and produced 18 recordings.
In 1991 Bollenback's compositions "Wookies' Revenge" and "Romancin' the Moon" (featured on DeFrancesco's Columbia Records release Reboppin') were honored by SESAC with that organization's award for original composition.  In 1993, a grant from the Virginia Commission on the Arts and the National Endowment for the Arts resulted in the composition "New Music for Three Jazz Guitars."  In 1997, Bollenback was named Musician of the Year at the Washington Area Music Awards.  That year he returned to New York City, where he now lives.
Bollenback debuted as a leader with Original Visions (Challenge), and his sophomore effort, Double Gemini, was named "CD of The Month" by both 20th-Century Guitar Magazine and WBGO Jazz Radio.  His 3rd release on Challenge, Soul Grooves, was named "Best Contemporary Jazz Album of 1999" by 'Ndigo Magazine.  He has appeared on the Tonight Show,Good Morning America, the Today Show, and Entertainment Tonight, and has played with an impressive spectrum of musicians, including Joey DeFrancesco, Steve Gadd, Gary Bartz, Paul Bley, Charlie Byrd, Terri-Lyne Carrington, Herb Ellis, Geoffrey Keezer, Mike LeDonne, Joe Locke, Jack McDuff, James Moody, David "Fathead" Newman, Jim Snidero, Carol Sloane, Gary Thomas, Grady Tate, Stanley Turrentine, and Jeff "Tain" Watts, vocalist-composer, Chris McNulty and in the group East Meets Jazz with the renowned tabla virtuoso Sandip Burman, to name a few.
Bollenback's range and impressive discography as both sideman and leader speak for themselves. His last two releases "Brightness of Being" (ED4548) & "Invocation" (ED4550) remained on the USA Jazz Week charts for several months in 2007 and 2008 consecutively. "Invocation" was voted onto Downbeat's Top 100 releases of 2008 and received wide critical acclaim in the international press garnering 4 and 5 star reviews in Jazz Times Magazine among others.
In 2011 Bollenback garnered a Grammy nomination for co-production on Joey DeFrancesco's Never Can Say Goodbye (Hi Note), and also shares executive and co-producing credits with vocalist-composer Chris McNulty on her albums Dance Delicioso and her Whispers the Heart (Elefant Dreams).  His international and national touring schedule currently include appearances with Joey DeFrancesco, Mike LeDonne, Jim Snidero, Gary Smullyan, Buster Williams, Chris McNulty's Magic Trio, as well as many appearances with his own trio.
Visit http://www.paulbollenback.com/