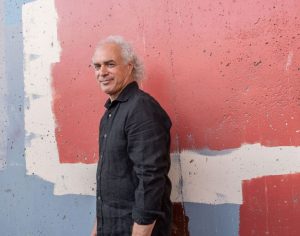 The Dave Kline Band blends the modern genres of rock, blues, jazz and folk with the cultural sounds of its diverse 4 piece ensemble from Brit Dave Kline (electric violin), Colombian Fernando Mojica (electric guitar), Haitian-American Jon Laine (drums), and Senegalise Etu Dieng (bass guitar). In 2002, Dave Kline formed the Dave Kline Band in Washington, DC. Recognized for its vibrant world sound, the Dave Kline Band highlights its contemporary vibe with the ancient cultures of Africa, the Caribbean, the Middle East, and Latin America. With high-energy, all original instrumentals, the combustion creates a deep emotional impact with the audience.
The Dave Kline Band has performed to diverse and large audiences at Gypsy Sally's among other notable Washington, DC area establishments. Festival appearances include the Petworth Jazz Project, Takoma Park JazzFest, and the Hyattsville Summer Concert Series. Their shows have been featured in the Washington Post and the Brightest Young Things DC Outdoor Concert Guide 2015. In 2015, the band was featured on WMUC's "Hot Jazz" and appeared on WPFW's "Live at 5".
The Dave Kline Band has released several albums of original music with more on the way.
Website: http://www.daveklineband.com
Audio: http://www.daveklineband.com/music/
Video: http://www.daveklineband.com/videos/
Press Kit: http://www.daveklineband.com/press-kit/
One sheet: http://www.daveklineband.com/s/daveklinebandonesheet-for-print.pdf