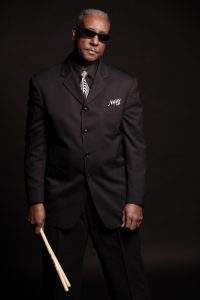 Drummer/percussionist Greg Holloway is a native of Washington, D.C. where he received an undergraduate degree in Music Education and Percussion Performance from Howard University (1980). He also participated in the Jazz Studies summer program at Eastman School of Music. Greg later pursued Masters in Education with an emphasis in Jazz Drumming/Percussion Methodology and Masters in Science (Counseling Psychology) from University of LaVerne in Southern California.
Greg with mallets Greg has returned to the Metropolitan area after completing a career in various prestigious Air Force Field Bands. While in the Air Force, Greg advanced to percussion section leader, Musical Director and leader of Jazz Ensembles, Rock Bands and various trios. These groups have backed major performers that appeared on national television and radio shows. Before transitioning to the civilian sector, Greg was instrumental in developing the percussion-training standard for Air Force Field Band Percussion and produced the CD "Midnight Sun" which features Ellington alumnus Freda Payne.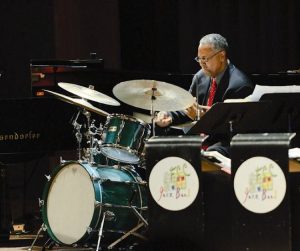 As a civilian, Greg has performed with Hank Jones, Freda Payne, Carl Fontanna, Rob McConnell, Chuck Israel, Jim Pugh, Gene Bertincinni, Maguire Sisters, Blackstone the Magician, Sheri Lewis, Bruce Conti, Rich Little, sista Monica Parker, Aretha Franklin, Jimmy Heath, Master Chorale of Washington DC, Nena Freelon and Vanessa Rubin. He has also played various shows in Palm Springs and served as Timpanist with the Anchorage Symphony 1993 – 1995 seasons. His latest recordings are "Turns" and "Midnight Sun" on the G-Bop label.
Snare and CongasGreg endorses Istanbul Mehmet Cymbals, REMO Drum Heads, Ayotte Snares (Jazz Only), Vic Firth Sticks and Mallets. He is also a member of the Pearl Drums regional drum set artist and Vic Firth Education Team.
Greg is currently the staff drummer/percussionist for Metro Stage, performs at various venues in the Metro area and is Director of Percussion at Flint High School. Greg has recently joined the adjunct jazz faculty at American University. Greg is also available for lessons, Pyramid Percussion Studio and performances. Tel/Fax: (301) 583-7800.
Visit http://greghollowayjazz.com/ for performance schedule and news.