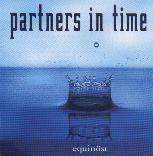 What happens when you combine two virtuoso Russian jazz players with two critically acclaimed American players?... ...the collaboration of PARTNERS IN TIME.
W hat happens when you add the legendary Grammy Award winning vibraphonist Gary Burton, trumpet competition winning prodigy Ryan Kisor and percussion master Don Alias?... ...the creation of Equinost.
The group PARTNERS IN TIME is a concept that grew from a quartet (formerly Jazznost) to the inclusion of other great guest players. The title, Equinost, reflects the unity and partnership heard throughout this exciting recording. Masterfully played and meticulously recorded, Equinost is a must for any CD collection. The selections range from the unique and memorable compositions of Louis Scherr to the haunting and beautiful theme from the movie Schindler's List.Rounding out this adventurous ensemble are: Gary Burton (vibes), Ryan Kisor (trumpet), Don Alias (percussion), Igor Butman (sax), Louis Scherr (piano), Victor Dvoskin (bass), Tony Martucci (drums), Paul Bollenback (guitar), and Ken Willaman (cello)."
...among the best that I have personally mastered this year." Bernie Grundman "
...Brilliant, energetic, and exciting style." City Life - Amsterdam "
...Their music is a unique combination of mainstream and post bop. The Partners are full of respect and rapport." Down Beat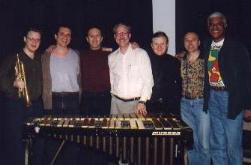 Masterfully recorded and mixed by Richard Roeder, Equinost includes 10 tracks, and the total listening experience is 68 minutes, 54 seconds. The selections are: Rozanova, The Beast and The Blossom, Dubrovnik, Mt. Harissa, Cruella, Eternal Triangle, Dorham's Epitaph, Elias, Sochi and Schindler's List.Gary Burton appears courtesy of GRP. Ryan Kisor appears courtesy of Sony/Columbia.