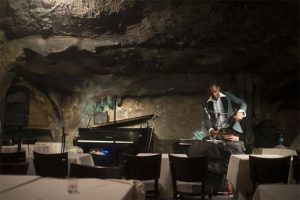 March 28, 2016
Miles Davis played there. So did John Coltrane, Duke Ellington and Cab Calloway.
And on Sunday, drummer Quincy Phillips — dressed in a faux fur coat, blue-feathered shirt and plaid flare pants — prepared for his final set at the legendary jazz club on U Street NW.
"This place is everything," he said, standing outside the subterranean club as fans asked if he could finagle them into the sold-out finale.
Bohemian Caverns, a jazz club that operated off and on for nearly 90 years, hosted its final show Sunday night, leaving an uncertain future for the hallowed building and a historic strip of the District that was once known as Black Broadway.
It opened as Club Caverns in 1926 under a pharmacy and operated as a speakeasy during the Prohibition era. It closed in the 1940s, then reopened in the next decade as Crystal Caverns, eventually becoming Bohemian Caverns.
But the 1968 riots that ravaged U Street and other parts of the city forced it to shutter until the turn of the millennium, when new development began sprouting in the area.
When new owners took over in 2006, Bohemian Caverns became a bedrock of the local jazz scene as young musicians flocked to the 100-seat club and its walls of fake, curvy rocks meant to resemble a cave.
The venue has become a platform for local artists such as Phillips and his ensemble, the Young Lions, to gain national exposure. Emerging artists also flock there to jam alongside more established names in the industry.
"This is still the same building, the same stage where the greats played," said Steve Synk, a 25-year-old bassist who performed Sunday. "We've lost so many jazz hubs in D.C. Losing this place is on another level. It's losing a home."
Co-owner Omrao Brown said the club was struggling financially and isn't renewing its lease.
Bohemian Caverns shares a building at 11th and U — known for the distinct piano keys and saxophone that adorn its facade — with two related establishments that also will close: Tap & Parlour, a bar and restaurant, and Liv, a two-story nightclub. The upstairs club branched out beyond jazz, hosting dance parties and playing music spanning decades and genres.
Efforts to reach the building's longtime landlord on Monday were unsuccessful.
"We hoped we could create something that would be infinitely sustainable," Brown said. "But we wanted to be part of the community and we definitely achieved that."
The club's closure follows the way of Patty Boom Boom and the Islander — two music-focused establishments on U Street that attracted largely African American customers.
There are still prominent places to hear live music along the U Street corridor, such as the Lincoln Theatre and U Street Music Hall. But these days there seem to be more pricey condos named after famous jazz musicians — such as the Ellington, Ella and Louis apartment buildings — than outposts to hear music.
"It's sad. It's another icon on U Street. It seems like all of our favorite hip-hop and R&B lounges are closed," said Andria Harrington, a D.C. native who met friends Sunday evening at Tap & Parlour. "We wanted to enjoy one last time in the building. We've had many birthdays and nights out here."
On Bohemian Caverns' last night in business Easter Sunday, old-timers and first-timers gathered to bid farewell. An hours-long jam session brought in musicians who had played at the venue over the past decade, as well as past and current members of the resident Bohemian Caverns Jazz Orchestra.
"I want my kids to see the emotional side of music. How musicians come together for good times and sad times like this," said Bernadine Dorsey, who brought her two children from Baltimore. The children are trained saxophonists and joined the jam session.
At Liv Nightclub upstairs, "Big Tony" was preparing for his regular dance party, featuring music from the '80s and '90s.
Big Tony, also known as Tony Sizemore, hosted the first dance party when Bohemian Caverns reopened in 2006 and was closing it down Sunday evening.
"People come to this party because they want to dance and get sweaty," Sizemore said. "It's hurt because this has been home base."
And on the ground level at Tap & Parlour, those who couldn't snag tickets to the Bohemian Caverns show grabbed drinks and reminisced while still dressed in their posh Easter clothes. Earlier in the day, the restaurant hosted a brunch for current and former staffers.
"A lot of the places that have popped up over the last few years on U Street Northwest, you can find them in any other city," said Quincy Atkinson, a former general manager of the club who flew in from Atlanta. "That was not the case with Bohemian. There's no other place that looks like it or feels like it."
Article by Perry Stein from the Washington Post.  Read full article here