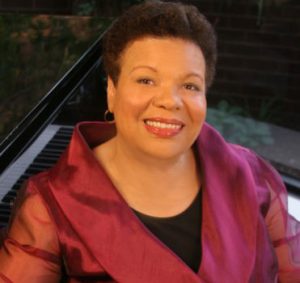 Sandra Y. Johnson, a native Washingtonian, has been singing most of her life, whether professionally, in an organized choir, in the privacy of her home, or with friends. Sandra Y. Johnson performs straight-ahead Jazz, Blues, and R&B/Oldies music, including Motown.  Sandra joined the Women's Fellowship Choir at her church in 1985. In 1986 she also joined the Blacks in Government Gospel Choir, Department of Labor Chapter, where she was the section leader and coordinator of the choir's activities for fourteen years.
She began taking private voice lessons in 1990 and as a result, she started singing solos. Sandra has sung at Department of Laborofficial functions, area churches, homeless shelters, rehabilitation centers, and evangelistic outreach services.
Since 1995, she has been an active member of the Washington Performing Arts Society's Men and Women of the Gospel Choir that performs annually at the Kennedy Center. In 2005 she was selected as one of the soloists to perform with WPAS at the Kennedy Center. Sandra still sings the first Sunday of each month at the Gospel Rescue Mission in Washington, D.C.
Sandra earned a Graduate Certificate in Arts Management in 2001 and a Master's Degree in Arts Management from American University in May 2007. She has a Bachelor of Public Administration from the University of the District of Columbia. In January 2004, Sandra retired from the U. S. Department of Labor as a Manpower Development Specialist after 37 years of service. During the Fall 2005 semester, Sandra served as a Development Intern in the Development Office of Strathmore Music Center; and in the Fall 2006 served as a Special Events Intern at Wolf Trap Foundation.
Finding a Voice in Jazz
In 2001, Sandra became interested in singing jazz, and became astudent for 3 1/2 years at the Elliston Jazz Studies Workshopunder the direction of Ronnie Wells and Ron Elliston. She also studied privately for a year and a half with the late Calvin J. Jones, University of the District of Columbia's Coordinator of Jazz Studies. She currently studies with Connaitre Miller, Professor of Jazz Voice at Howard University, Washington, DC.
Sandra's first "gigs" were at The Islander Restaurant, Westminster Presbyterian Church Jazz Series, The Old Post Office Pavilion, and Twin's Jazz Lounge on U Street. Since 2002, she has performed at several jazz festivals to include the Fish Middleton Jazz Scholarship (FMJS) Fund's East Coast Jazz Festival at the Double Tree Hotel in Rockville, 2006 Potomac Jazz & Seafood Festival, The 2010 and 2011 Taste of Georgetown, Herndon Labor Day Jazz Festival, 2011 Mid-Atlantic Jazz Festival and many outdoor concerts.  Sandra also performed several times at the Henley Park Hotel and the Mandarin Oriental Hotel.  From 2005 – 2010, she performed every Friday night at Laporta's Restaurant in Alexandria, VA. She performed at the Smithsonian's American Art Museum's "Take 5″ in 2008 and again in 2011.  Sandra also performed at the Phillips Collection in May 2012.
She entered and won 2nd Place at the 2006 and 2007 Billie Holiday Vocal Competition in Baltimore, MD.
Sandra performs around the DC Metro Area and at special events. Her goal is to plan and produce music events and other special events, while furthering her own music career as a jazz/gospel/R&B/Oldies vocalist.
CD Releases
In February 2004, Sandra released her debut CD entitled, "Steppin' Out" and had CD releases at Blues Alley Supper Club and Westminster Presbyterian Church.
She produced her second CD, "What are You Doing the Rest of Your Life?" in January 2011 and had CD release events at the University of the District of Columbia and again at Westminster Presbyterian Church.