U.S. Army Blues Jazz Orchestra arrives at Castleton
.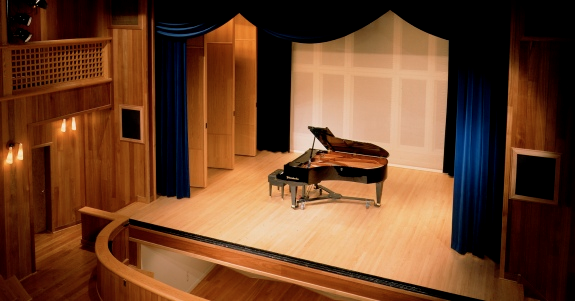 Dear Friends,The
U.S. Army Blues Jazz Orchestra
arrives at Castleton this Saturday with Ellington/Strayhorn's "Nutcracker" & Stan Kenton's "A Merry Christmas". Next up,
Jazz at Lincoln Center
presents trumpeter Marcus Printup and clarinetist Ken Peplowski.
Tom Teasley
then brings ancient instruments and digital enhancements to the CiP stage.
The Castleton Theatre House is one of the most beautiful concert venues in the world, a stage for soloists, small ensembles, or a fully staged opera. Upcoming performance details are listed below.
Yours truly,
Burnett Thompson
Director of Programming
Castleton in Performance
U.S. ARMY BLUES
SATURDAY, DEC. 20, 2014 AT 7 PM.
The premier jazz ensemble of the United States Army brings Duke Ellington and Billy Strayhorn's arrangement of Tchaikovsky's Nutcracker, remarkable for its reimagining of the iconic ballet suite. Filling out the program is Stan Kenton's "A Merry Christmas", including the classic Christmas songs scored for an all brass big band, with mellophoniums (a straight-bell French horn) replacing saxophones. This will be a splendid evening to celebrate the holidays. Free, but reservations are required.
RESERVE TICKETS
CiP & JALC PRESENT: MARCUS PRINTUP & KEN PEPLOWSKI WITH THE AMIGOS
SUNDAY, JAN. 18, 2015 AT 4:00 p.m.Jazz at Lincoln Center Orchestra trumpeter Marcus Printup and world-renowned clarinetist Ken Peplowski present an evening concert addressing a wide range of jazz and it's influences. Anchored by the popular New York City-based roots music collective, The Amigos, this concert will explore the music of Louis Armstrong, Sidney Bechet, Duke Ellington and other giants of jazz and American music. This concert is a preview of things to come with the Jazz at Lincoln Center's summer residency at the Castleton Festival. TICKETS
TOM TEASLEY, PERCUSSIONIST
SUNDAY, FEB 15, 2015 AT 4:00 p.m.World percussion/multimedia artist Tom Teasley draws on his extensive tours of Iraq, Saudi Arabia, Jerusalem, New Zealand, Samoa and South America. In this solo performance Tom will combine instruments from all over the world ,interchanging instruments and techniques. Ancient instruments and cutting edge electronics allow him to create virtual ensembles. Tom includes excerpts from his multimedia project, "Sounds You Can SEE" combining his compositions with original video art and existing video by Dadaist masters, Viking Eggling, and Hans Richter. TICKETS