The Count Basie Orchestra in Bethesda
The
Count Basie Orchestra – Opening Act:
Bethesda Blues & Jazz Youth Orchestra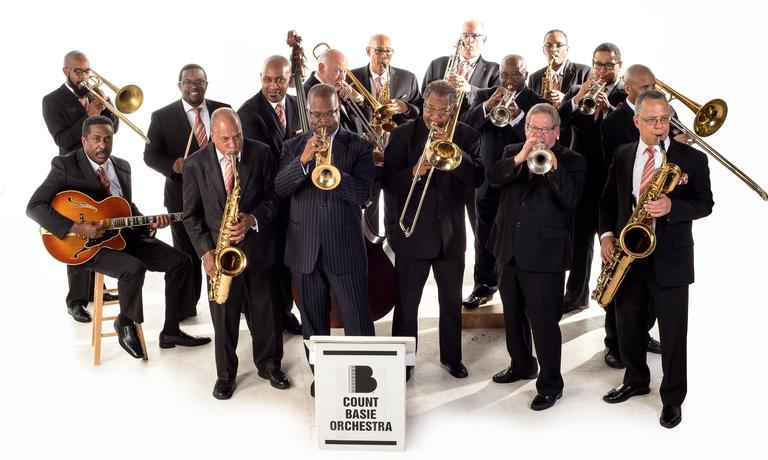 Tuesday, November 13
7PM / $25 – $45
Tickets
The Count Basie Orchestra, one of
the preeminent swing jazz ensembles, will be headlining this
fundraiser for the Bethesda Blues & Jazz Youth
Orchestra.  The evening will open with a wonderful
performance by the talented young musicians of the Youth
Orchestra, followed by the legendary Count Basie Orchestra
featuring eighteen world class musicians and vocalist Brianna
Thomas.
The Count Basie Orchestra is a venerable institution of
American music representing the grandeur and excellence of
jazz music as personified by its founder and bandleader,
William James "Count" Basie.  Featuring many of the
greatest vocalists, musicians, composers and arrangers in jazz
history, the Count Basie Orchestra has won 18 Grammy
Awards and every respected jazz poll, as well as having
toured the world at every major jazz festival and concert
hall.  Now under the leadership of it's Director, Scotty
Barnhart, The Count Basie Orchestra is traveling the world
celebrating it's 80th Anniversary and continuing the excellent
standards in swinging and shouting the blues with precision,
and continuing to be "The Most Explosive Force In Jazz".
The Bethesda Blues & Jazz Youth Orchestra is
comprised of twenty brilliant musicians from the ages of
11-17, and its mission is to provide an educational
environment and opportunity for young musicians to experience
and perform jazz music. The Youth Orchestra is under the
direction of music educator and saxophonist Fred Foss, who has
worked with the National Symphony Orchestra and the Baltimore
Symphony Orchestra.  He also performed with the Lionel
Hampton Orchestra, Hugh Masekela, Tito Puente, Patti Labelle,
The Temptations and The Four Tops. Foss enjoys teaching his
knowledge and wisdom to young musicians who have the
opportunity to learn from a master and, in many cases, become
professional musicians themselves.
Come and enjoy this spectacular, fun evening while supporting
the Bethesda Blues & Jazz Youth Orchestra!