The 15th annual Jazz at the Lake concert featuring Sean Jones
The
15th annual Jazz at the Lake concert featuring Sean Jones

Saturday, January 18, at 7 pm, Columbia, MD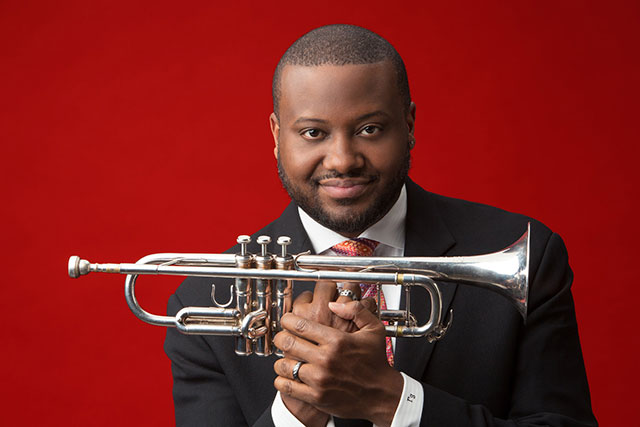 Famed trumpeter Sean Jones headlines the 15th
annual Jazz at the Lake concert on January 18th at 7pm in
Columbia, MD. Music and spirituality have
always been fully intertwined in the artistic vision of this
trumpeter, bandleader, composer and educator. Mr. Jones is a
musical chameleon and is comfortable in any musical setting no
matter what the role or the genre.
Mr. Jones will play with Wilde Lake alumni Alex Brown
on piano, Kris Funn on bass and Quincy Phillips
on drums. The award-winning Wilde Lake High School jazz
ensemble will open the show and perform a piece with the guest
artists. Intermission will feature the Wilde Lake steel drum
band, the Island Cats.
Tickets are $20 for adults and $10 for students. (Golden
Opportunities passes are not valid for this special concert.)
The concert takes place at the Jim Rouse Theatre, 5460
Trumpeter Road, Columbia, MD. For more information contact WildeLakeJazz@gmail.com
or 410-997-2070.
Saturday, January 18, at 7 p.m.
Jim Rouse Theatre
Wilde Lake High School
5460 Trumpeter Rd.
Columbia, MD 21044
Advance purchase of tickets recommended. Purchase tickets
online at InstantSeats.com/events/JimRouseTheatre.

---