Support music education and enjoy great jazz 12/12 at Bethesda Blues & Jazz Club
Support music education and enjoy
great jazz next Tuesday
Save 50% on tickets.
Use code
BBJYO
and save 50%
---
Ben Williams and The Bethesda Blues & Jazz Youth
Orchestra
Tue, December 12 7:30PM
$17.50 – $35 Save 50% use code BBJYO
Tickets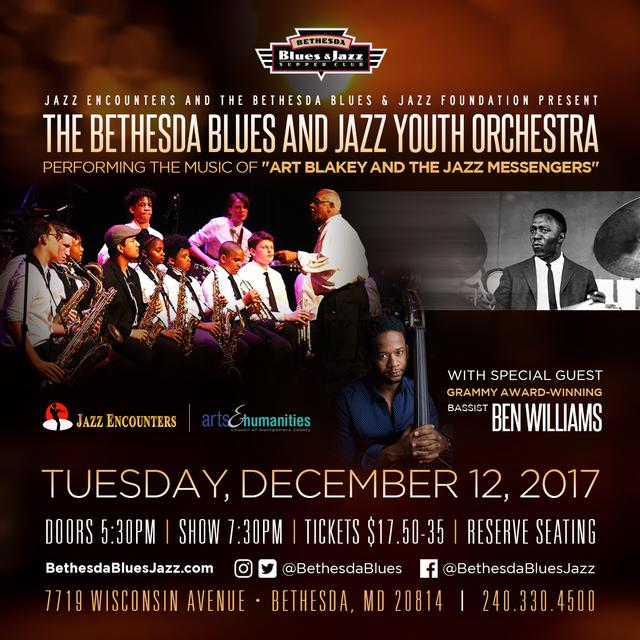 Jazz Encounters and the Bethesda Blues and Jazz
Foundation present the Bethesda Blues and Jazz Youth Orchestra under the
direction of Fred Foss on December 12. The ensemble will be performing the
music of "Art Blakey and The Jazz Messengers" with special guest GRAMMY
Award Winning bassist Ben Williams, another one of Fred's students. Join us
on next Tuesday, as maybe there is another GRAMMY winner among Fred's students
and you'll be among the first to discover their talent.
Every Monday afternoon, some of our area's most talented young
musicians practice their art on Bethesda Blues & Jazz's stage as part of
the Youth Orchestra. After homework time and a healthy snack, they are able to
participate in an ensemble. This experience, which they may not otherwise be
able to afford, is free to these budding artists thanks to the support of
people like you.
Ben Williams, who will play with the Youth Orchestra, began
playing bass at age 10, was raised in the District of Columbia, and graduated
from Duke Ellington School of the Arts. While in middle school Ben was a
student playing bass in Fred's first youth orchestra, Fred Foss Youth
Orchestra. Ben received a Bachelor of Arts in Music Education from Michigan
State University and a Master of Music in Jazz Studies at the Juilliard School.
In 2009, he won the prestigious Thelonious Monk International Jazz Bass
Competition as judged by Ron Carter, Charlie Haden, Dave Holland, Robert Hurst,
Christian McBride and John Patitiucci.
This will be a great reunion as one of Fred's most successful
alumni plays alongside Fred's new protégés. Please join us to
help them celebrate while supporting music education.
This event is sponsored in part by a grant provided by the
Arts and Humanities Council of Montgomery County and the Montgomery County
government.
---